Queen Elizabeth&nbspsails
HMS Queen Elizabeth, the first of the new QE Class aircraft carriers, has taken to sea for the very first time.
History was made when the new ship launched from Rosyth to commence the first stage of sea trials off the north-east of Scotland. Spending the next six weeks at sea, the crew will monitor speed, manoeuvrability, power and propulsion, and undertake weapons trials in order to assess the progress of the ship's build.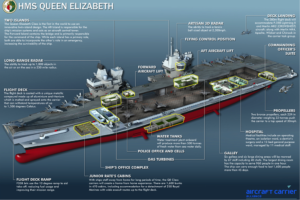 Defence Secretary Sir Michael Fallon said: "This is a historic moment for the UK as our new aircraft carrier takes to sea for the very first time. This floating fortress is by far the most powerful ship ever built in Britain that will enable us to tackle multiple and changing threats across the globe. 
"HMS Queen Elizabeth is an enduring example of British imagination, ingenuity, invention that will help keep us safe for decades to come. She is built by the best, crewed by the best and will deliver for Britain.
"For the next fifty years she will deploy around the world, demonstrating British power and our commitment to confronting the emerging challenges from a dangerous world. The whole country can be proud of this national achievement."
Following this initial period, HMS Queen Elizabeth will return to Rosyth for further testing and maintenance before heading back to sea for a second stage which aims to test her Mission Systems. She will transit to her home port of Portsmouth Naval Base to be handed over to the Royal Navy later this year.
Admiral Sir Philip Jones First Sea Lord and Chief of Naval Staff said: "This is a hugely significant moment for the Royal Navy, for all our Armed Forces and for our island nation. Once in service HMS Queen Elizabeth will be the largest aircraft carrier in the world outside the United States, and the first designed from the outset to operate a fifth generation aircraft.
"Already this ship represents the best of the UK's industrial and engineering expertise, and once in service she will symbolise our military power and authority in the world for decades to come. There is still much work to do between now and then, but be in no doubt: a new era of British maritime power is about to begin."
Images: © Crown Copyright
If you would like to join our community and read more articles like this then please click here
The post Queen Elizabeth sails appeared first on Defence Online.