Royal Navy to refit navy ships and&nbspsubmarines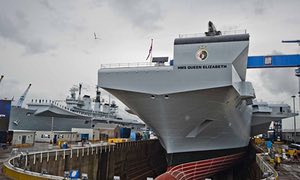 Summary: The MOD has awarded a £5m contract to overhaul the interiors of all the Royal Navy's ships and submarines.
The contract includes the refurbishment of the interiors and living areas of all the entire Royal Navy fleet over the next four years, protecting at least 200 jobs in Portsmouth and creating many more.
Lang & Potter has won the contract to refurbish chairs, mattress covers, bed linen and curtains across the fleet. New materials and colours schemes will be used to improve recreational and living areas for crews, who can be at sea for up to 180 days at a time.
David Potter, Managing Director at Lang & Potter, said:
"We are extremely pleased to have won this contract to deliver highly specialised textiles that meet the Royal Navy's stringent requirements whilst helping men and women at sea feel as much at home as possible. It's a challenge we are very much looking forward to, and we hope to bring some innovative ideas that provide both value for money and improved practicalities.
"Winning this contract will safeguard existing jobs at Lang and Potter and will enable us to recruit and train new staff."
The contract is part of the MOD's plans to modernise the fleet while creating jobs for UK defence firms. The MOD's Chief of Materiel (Fleet), Vice Admiral Simon Lister, said:
"It's easy to underestimate the importance of the living conditions at sea. The quality of the ship's furnishings is important to keep crews safe and comfortable whilst deployed around the world.
"Supporting this British small business will create more jobs, and keep morale high both in Plymouth and at sea."