MOD releases new defence procurement&nbspfigures
The Ministry of Defence has released defence procurement figures for 2017/2018 in the Finance & Economics Annual Bulletin. This document outlines statistics on trade, industry and contracts and was published on 6 September.
MOD procurement expenditure
The document has revealed that 1,928 new contracts were placed by MOD Core Department during 2017/18 with a total value of at £5.9bn.
The top ten suppliers, which between them receive 42% of this expenditure, were also listed, with BAE Systems taking the top spot. Last year the company was awarded a seven-year contract by the Ministry of Defence's Maritime Combat Systems team. This contract had many requirements, one being that BAE Systems must ensure the combat management systems, tactical networks and shared infrastructures aboard 38 Royal Navy platforms remain available, coherent, safe and secure.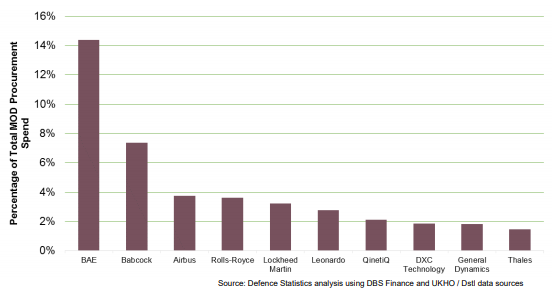 Other suppliers in the top ten included Babcock, which received 38% of its revenue last year from the Ministry of Defence, an example of how dependent key suppliers are on defence procurement opportunities.
If you would like to read this document, it can be accessed here.
Find out about new defence procurement opportunities
The MOD is always looking to work with new innovative suppliers. In the Finance & Economics Annual Bulletin, the MOD states that its organisation "places numerous contracts each year for a range of goods and services, including major equipment projects, infrastructure and service support".
If you would like to pinpoint opportunities that are relevant to your business, DCI publishes both MOD contracts and defence procurement opportunities from the UK and overseas – we publish 15 X more defence contracts through DCI than through MOD only services.
Speak to a defence expert
Our solution is created specifically for defence suppliers that want to find tenders and engage with buyers in their marketplace.
Find out more about our solution and how to find defence procurement opportunities by requesting a demo with one of our experts today.