Defence Contract Alerts That Are Relevant To You
DCI's Contract Alerts tool sends defence tender opportunities and awards notices straight to your inbox.
This efficient solution will drive your procurement agenda forward and help connect your business to thousands of suppliers not just in the UK or Europe but across the globe.
Industry Leading Defence Procurement Research
Our research team is dedicated to finding defence contracts for businesses like yours. We monitor over 2,000 sources every day, making sure we remain the market leader for defence tender alerts.
In addition to defence tenders opting for one of our Defence and Civil packages will also provide you access to Europe's largest database of public and private sector tender opportunities.
Our dedicated research team also monitor spend in the public sector and update this so you know where the money in your market is being spent.
Efficiency - Save Time And Win Defence Tenders
Why search for defence tenders when you can save time with our defence contracts alerts tool? Be the first to hear about the new opportunities that are relevant to your business.
DCI is a one stop shop for your tendering needs, we do the leg work to ensure you never miss an opportunity. Think of DCI has the most effective business development team member you have, we can be anywhere and work 24/7. We grow with you so add users and configure DCI to match your defence contracting needs at anytime.
Stop wasting your time manually monitoring procurement portals and choose the market leader.
We have been the official publishers of all UK MOD defence contracts online for over 20 years, and we use this experience and our knowledge of the market to find and deliver relevant defence tender opportunities to our customers from across the world
With Tender alerts from the largest awarding bodies including the MOD, US Federal Bureau and OJEU
DCI offers over 15x more defence tendering opportunities than can be found on official MOD procurement portals.
Find Defence Tenders With Intelligent Search
We offer a personalised service. This means that your business will only receive alerts for the tenders it wants to find. Simply tell us your preferences or configure them in the application.
Search by CPV codes, specific keywords, awarding body and country. Our engine will do the leg work and ensure your daily email alerts are full of relevant tendering opportunities.
Get Ahead Of The Competition
Our defence contracts alerts service offers many benefits. Our expertise in defence procurement can help your business win more contracts.
We can help you to identify relevant defence opportunities that your competitors may be missing, giving you the ultimate edge over your competition.
DCI contract alerts will allow you to spend more time on the bids that are relevant to your business, with less time wasted on manual searching.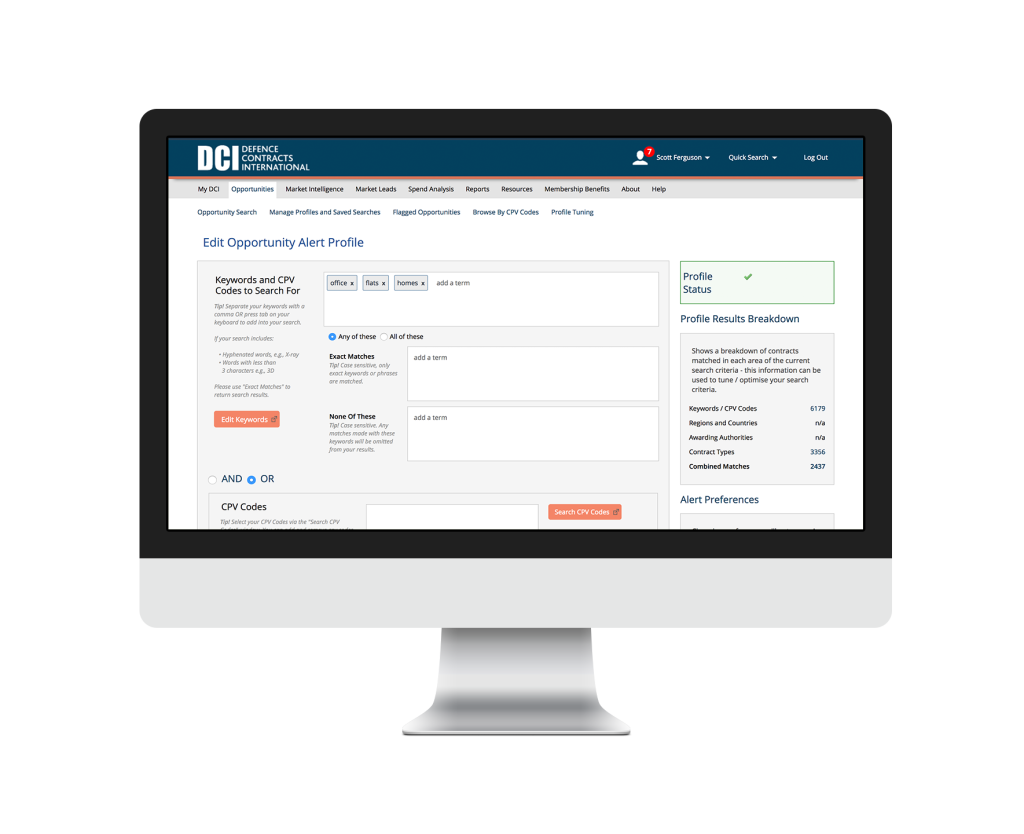 More Than Just Defence Tender Alerts
DCI has defence & civil contract alerts at its core and the opportunity to make effective use of the data available from our contract alerts service is coupling it with our other business intelligence services.
Spend Analysis – Get the insight on competitor spend and buyer activity in the public sector
Market Leads – You see the framework why not get notified 12 months before its due to be tendered for again?
Market Intelligence – Our Research team bring detailed and relevant news stories about your industry all housed within the DCI application.
FastTrack Growth reports – Our reports give you detailed insight and sales lead opportunities to fully understand the market your operating in.
Get in touch today and let us show you how DCI can increase the return on your procurement activity and win more MOD contracts.
Choose Your Defence Contract Alert Solution
At DCI we have packages that suit all types of businesses across a number of industry sectors. Our Contract Alerts tool comes with all packages from the following subscription levels:
Home Country Pricing
UK & ROI Pricing
Europe Pricing
Global Pricing
Maximise your exposure to defence contracts and awards notices from Europe's largest provider!