Showcasing innovation:&nbspDPRTE
At another successful DPRTE exhibition, the Defence Science and Technology Laboratory has (Dstl) showcased its latest developments.
With the Dstl stand six people deep at times, it was obviously a popular choice for delegates see the latest innovations and to find out more about the Defence and Security Accelerator.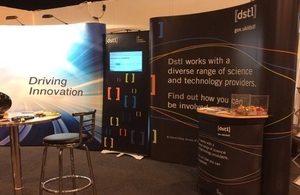 One of the most popular exhibits proved to be a very graphic and realistic trauma surgeons model. In order to provide elite training to Army medics and front line response, Dstl commissioned Professor Ian Pallister, a civilian trauma surgeon and his colleagues at Trauma Simulation Ltd, to create extremely realistic life-size training model. By all accounts, it wasn't for the squeamish!
Seeking to solve a number of current and future defence and security challenges the Accelerator is already receiving kudos for its ability to engage with, and fund, innovators.
Acting Head of the Accelerator, Rob Solly, gave a keynote speech at the event, explaining how the Accelerator is driving innovation for UK defence and security.
Talking about the DPRTE event, Rob said: "DPRTE is a key event in the defence exhibition calendar and gave us the opportunity to talk to customers, suppliers, academics and government agencies in one place.
"We want to hear from innovators about their ideas, from small niche companies to large organisations. We're particularly keen to hear from organisations who haven't been involved in defence or security before. We believe there is a wealth of knowledge and ideas in parallel markets which can be, with some adjustments, used to provide game-changing support to our armed forces.
"Some organisations are put off getting involved due to perceived long, complicated Government processes. However, the Accelerator team has developed a simple application process to make it easier for innovators and businesses to work with us and develop their ideas, from initial concepts to mature applications. Our Innovation Partners can also guide suppliers through the process.
"At DPRTE we were keen to highlight that unlike other schemes, the Accelerator allows businesses to retain their intellectual property. Our return on investment is providing our Armed Forces and Security teams the best kit and services to do their jobs and keep our country safe."
In the Research and Technology Zone, Neal Smith Dstl's Capability Adviser for Medical Sciences presented Innovation in Defence: Medical Sciences. He demonstrated how rapid responses to evolving threats and changing scenarios can be generated to enhance military medical responses.
Reflecting on the event, Neal said: "From my point of view, a very interesting and useful event, certainly great for getting our message across, in terms of investment in innovation and exploitation. I was pleased that Professor Ian Pallister of from Trauma Simulation Ltd, could join us and many participants enjoyed hearing about the trauma model and Ian's experiences of working with Dstl and the Accelerator."
A further Dstl presence was found in the Innovation Hub, where they demonstrated the breadth of work within Dstl and how suppliers can get involved.
Dstl and Accelerator representatives were busy all day talking to a wide range of suppliers, from SMEs, academia and primes enquiring about opportunities to get involved. With many positive discussions with suppliers, Dstl and the Accelerator have a number of leads to follow up from the event.
If you would like to join our community and read more articles like this then please click here
The post Showcasing innovation: DPRTE appeared first on Defence Online.