With DPRTE 2022 set to take place next month, we take a look at the Ministry of Defence's focus on science and technology to help maintain the range of critical capabilities that support the UK's national security.
The increasing pace of innovation means that technology touches every part of modern society – whether it be through artificial intelligence, machine learning and big data – and the defence and security of the UK is no different.
The Ministry of Defence (MOD) has placed science, technology and innovation at the core of its ten-year strategy as it looks to exploit effective and efficient solutions to maintain battlefield advantage.
Significant investment in science and technology
Across all public sectors huge sums of money are being invested in science and technology.
For the MOD, this funding will help to achieve its ambitions to evolve and increase agility to meet emerging threats.
This includes bolstering the UK's cyber capabilities as the Government strives to become a global science power, using research & development investments to grow industrial capability and create cutting-edge equipment.
The Government will invest £14.6 billion into research & development and science and technology – with £6 billion of that to spent over the next four years.
This includes an additional £1.1 billion specifically for science and technology and pull through activities – using it to influence new designs and capabilities for vital defence equipment.
In more good news for technology companies, Strategic Command will invest £1.5 billion over the next decade to build and sustain a 'digital backbone' to share and exploit vast amounts of data, through the cloud, and across secure networks that are resilient to cyber-attacks.
£60 million over the next four years will be used to develop novel weapons, artificial intelligence, synthetic/digital systems and space-based capabilities.
The increasing importance of Space to military operations will see £5 billion invested over the next decade in the Skynet 6 satellite communication programme.
This will be complimented by £1.4 billion allocated to the new Space Command, National Space Operations Centre, Space Academy and a UK-built Intelligence, Surveillance and Reconnaissance satellite constellation.
Don't forget, the MOD has set an ambitious target that 25% of its procurement spend will go to SMEs in 2022, either directly or indirectly and recently published the Defence SME Action Plan outlining its ambitions to improve relationships with small and medium-sized enterprises (SMEs).
Meet the MOD's science, technology and innovation teams at DPRTE 2022
Defence Contracts International is an official partenrt of DPRTE 2022 and the event's Innovation and Digital Knowledge Transfer Zone will bring together some of the leading technology organisations to deliver sessions designed to keep you up to date on defence technology strategies and innovations.
While the Innovation & Digital Pavilion will provide attendees with the opportunity to meet with key organisations that can help and advise on potential funding options and bringing products and services to the market within a science and technology programme worth over £400 million a year.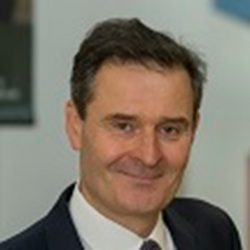 Doug Umbers, Chief Operating Officer of DSTL
Speaking to Matt Brown from DPRTE's official media partner, Defence Online, Doug Umbers, Chief Operating Officer of Defence Science and Technology Laboratory (Dstl), explained what the increase in investment will mean for the defence industry.
He said: "The level of our funding is going to increase by over a billion pounds over the next four years and we expect 80% of that money to go through industry and academia.
"Activity is going to increase which gives plenty of opportunity for all and what we need to have is a highly collaborative environment that allows us to deliver the impact that the science needs to have."
Don't miss your chance to meet with representatives from DPRTE partner organisations including Dstl, DASA and the Defence Cyber Protection Partnership.
Book your place here
How Defence Contracts International can help
DCI can play a key role in helping you achieve your ambitions in the marketplace.
The Government believe that this focus on science and technology will help realise its ambitions to become a 'science superpower' and will create significant opportunities for UK suppliers to win business as a direct result of these new strategies.
We recognise that the public sector can be challenging to do business with, simply due to the size and complexity of the market.
This means that those seeking to gain business traction in this sector can struggle to find their way into the marketplace or contact the right person.
DCI's range of features can help you engage earlier, be more competitive and sell more effectively to support your business growth at every level, whether you are an SME relatively new to working with the defence sector or a multinational company looking for deeper market insight.
Are you interested in finding out more about what DCI can offer you as a business in terms of guidance and support when tendering to the defence sector? Book a demo today and begin your journey.