New kit tested in&nbspAWE
This week has seen 200 soldiers from 1st Battalion The Mercian Regiment, 51 Squadron RAF Regiment and 45 Commando come together at the Salisbury Training Area to take part in the third phase of AWE 17 (Army Warfighting Experiment).
Supported by DE&S, the exercise is designed to test new and innovative kit and capabilities in a warfighting scenario. AWE 17 has taken proposals from a range of businesses in order to solve 'problems' on the battlefield and tested them on a level playing field. Over 275 solutions were submitted and 72 products, including a self-sterilizing water bottle and a 56 foot 'EasiBridge', were selected for the project.
Items tested included new assault ladders, the DMM Urban Vertical Access system (a climbing pole combined with abseil for entering – and quickly leaving) multi-storey buildings – the Deployable Situational Awareness system (battlefield Satnav/communications system) and the Black Hornet miniature helicopter.
Just ten centimetres long and weighing only 16 grammes, the tiny remote-controlled helicopter feeds live imagery back to its controller. It can fly up to two kilometres and, once airborne, is virtually silent and invisible to the human eye, and allows its operators to look behind walls, hedges, buildings giving them unprecedented knowledge of the enemy's location.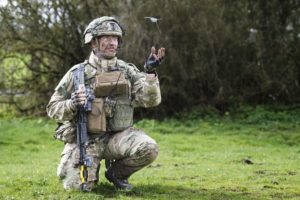 The solutions were put through their paces by the Armed Forces during AWE 17, which has proved a unique opportunity for the Armed Forces to refine their future requirements by influencing the development of prospective new capabilities, while industry is helped by understanding the requirements of the Armed Forces.
Military and industry visitors were then invited to a day of demonstrations and industry stands to see the equipment close up and talk to specialist manufacturers and troops involved.
Solutions on show at AWE included the ACERS (an Armoured Casualty Evacuation Rescue System) a two-part lift and pulley system, which gives an efficient and practical method for rescuing a casualty either through the turret or the rear door of an armoured vehicle. In life saving situations this piece of equipment can shave vital seconds off casualty rescue.
James Morris, Land Section Head with the DE&S technology office said: "AWE has been a huge success and hopefully what we have learnt will be offered up to inform future procurement activities."
Images: © Crown Copyright  Photographer: Corporal Daniel Wiepen / MoD Crown
If you would like to join our community and read more articles like this then please click here
The post New kit tested in AWE appeared first on Defence Online.