Long-term logistics deal aims to save UK taxpayer&nbsp£500m
A lengthy logistics deal for the MOD to cut costs and improve efficiency was agreed with the US-owned firm Leidos in 2015. Defence writer Mark Lane looks at how the operation of the programme is faring.
In a drive to improve the logistics supporting the UK's Armed Forces, the Ministry of Defence partnered with a leading US company in 2015.
The MOD signed a 13-year logistics programme contract with Leidos to run and improve efficiencies in warehousing procurement and stock control of food, clothing, general and medical supplies as well as storage and distribution.
Leidos is a global science and technology company that provides technology and engineering services and solutions in the defence, intelligence, civil and health markets.
It has 32,000 employees operating across all of these markets with seven core capabilities: command, control, computing, communications and intelligence, surveillance and reconnaissance (C4ISR); cyber security; systems engineering; large-scale agile software development; data analytics; enterprise IT modernisation; and operations and sustainment.
Matt Wiles, LCS(T) Programme Director at Leidos, says: "We apply technically advanced solutions to help solve our customers' most difficult problems."
He adds: "Leidos has a diverse portfolio of security solutions which are fielded in the US; these include large-scale intelligence systems, command and control, data analytics, cyber security solutions, as well as operations support services and logistics."
The MOD contract is intended to form part of a transformation of its Logistics Commodities and Services, known as LCS(T), and aims to provide these services in line with industry best practice while ensuring best value for money for the UK taxpayer.
It is also intended that the arrangements, which began two years ago, will provide 'significant operational effectiveness' by delivering improved responsiveness and agility to supplying the Armed Forces.
Team Leidos consists of Leidos, supported by its key sub-contractors Kuehne + Nagel and TVS Supply Chain Solutions. The contract comprises a three-year transition period to allow Team Leidos to transform the capabilities of the logistics service, improve performance and establish new ways of working. The remaining ten years provide the opportunity to realise £500 million of cost savings for the UK taxpayer.
At the time the contract was signed, the then Minister for Defence Equipment, Support and Technology, Philip Dunne MP, said: "I am pleased we are able to confirm this transaction with Leidos which will bring the military's logistics, commodities and support services up to the standard of industry best practice, deliver more efficient and effective processes across the supply chain and enhance the quality of support provided to our Armed Forces."
The then MOD Chief of Materiel (Land), Lieutenant General Sir Chris Deverell, commented: "This contract meets the changing military requirements of our Armed Forces whilst also maintaining levels of quality and service.
"By working with Leidos, we will modernise our commodity procurement, warehousing and distribution and secure a supply chain that will be responsive to the needs of the military, whilst at the same time saving money for defence."
The services covered by the contract are the procurement of commodity items for the MOD, including clothing, medical supplies, general stores, packed fuels and food, together with the storage and distribution of all inventory held within UK Defence. Team Leidos also designs and manages the processes and systems required to operate these services.
Wiles explains: "Leidos is the prime contractor to the MOD for the delivery of the LCS(T) services. It, in part, discharges this responsibility by sub-contracting the bulk of the procurement capability to TVS, and the bulk of the storage and distribution capability to Kuehne + Nagel.
"The contract is framed such that all parties are incentivised to make the programme successful and maximise benefits for the UK Armed Forces. In a practical sense, the outputs of the contract are delivered as a team with each company providing key executives which form the leadership of the programme, with a Leidos programme manager in overall control."
But has Leidos achieved any efficiencies in the MOD's warehousing procurement and stock control yet, and if so how? Is there the potential for further efficiencies?
"Leidos has identified the specific actions through which it will deliver £500 million of savings to the MOD and the UK taxpayer over the full contract period and is on track to deliver these," affirms Wiles. "Savings in the first three transition years were always planned to be small, and are being met or exceeded thus far, through improved commodity procurement, and continuous improvement."
And how is Leidos applying industry best practice?
"Team Leidos brings world-class capabilities, processes and systems to bear on LCS(T). Each of the partners is a global market leader in its field, and they are using their industry-leading capabilities to provide the best possible outcome," he says.
The transaction involved the TUPE transfer of some 1250 staff.
Wiles comments: "The TUPE transfer was delivered smoothly and most of the Team Leidos staff who have been TUPE'd from the Ministry of Defence have made a successful transition. A very small number have elected to return to other jobs in the MOD, and a few have elected to retire or pursue roles outside Team Leidos. Staff turnover has consistently remained well below industry norms."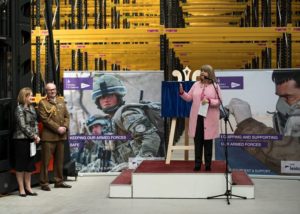 The programme has also included investment in new facilities, including £90 million in the construction of a fulfilment centre next to the existing LCS site at Telford in Shropshire, and £40 million in new IT systems.
"The Defence Fulfilment Centre (DFC) at Telford was formally opened by the Minister for Defence Procurement on 4 April 2017, delivered to time, cost and quality," says Wiles. "Complex work is already under way to manage stock into the DFC and elsewhere, and our plan will have the DFC fully stocked by the end of March 2019.
"A first IS release was delivered in September 2016 and this has delivered a live integration platform and enabled several applications to be rolled out into productive use. Work now continues to implement a further set of IS releases to enable the full transition programme."
There could be further changes to MOD logistics provision in the future but these would have to be carefully prepared.
Wiles concludes: "The LCS(T) contract contains a number of options for further business improvement throughout the life of the contract, and Team Leidos is working closely with the MOD to scope these and prepare associated business cases. All changes will need to be fully justified ahead of implementation.''
Images: © Crown Copyright. Minister for Defence Procurement Harriett Baldwin opens the Defence Fulfilment Centre in Donnington.
If you would like to join our community and read more articles like this then please click here
The post Long-term logistics deal aims to save UK taxpayer £500m appeared first on Defence Online.