Have a question about Cyber Essentials? Check out our FAQ below on common Cyber Essentials questions.
Alternatively you can download our free scheme summary or sample questionnaire that details the Cyber Essentials Scheme and contains answers to many common questions.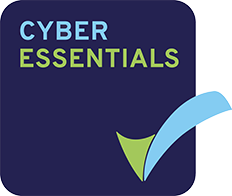 What Is Cyber Essentials?
Cyber Essentials is a certification developed by Government and industry which provides a clear statement of the basic controls organisations should have in place to protect themselves against malicious cyber attacks which require low levels of attacker skill and are widely available online.

Cyber Essentials Plus is a more rigorous test of your organisation's cyber security systems where our cyber security experts carry out vulnerability tests to make sure that your organisation is protected against basic hacking and phishing attacks. Find out more information about What is Cyber Essentials here
Who Is Cyber Essentials For?
Cyber Essentials is for all organisations, of all sizes, and in all sectors. The Government encourages all organisations to look at the requirements and adopt them. This is not limited to defence companies or companies in the private sector, but is applicable to universities, charities, public sector, and not-for-profit organisations.
How Does The Cyber Essentials Process Work?
Once the fee payment has been processed, you will receive an email explaining how to access the online Cyber Essentials questionnaire form.  You can then begin completing your application and there is additional options to  save your progress. Once the questionnaire is complete, you submit your application electronically and will receive a confirmation. At this stage, you will be contacted by a member of our team to review your application.
What Are The Benefits Of Cyber Essentials?
Cyber Essentials provides organisations with clarity on what essential security controls they need to have in place to reduce the risk posed by threats on the Internet with low levels of technical capability. Organisations who are Cyber Essentials certified can make this a selling point as it demonstrates to customers that they take cyber security seriously and they have taken these essential steps. We have further outlined the benefits 
here
How Long Does It Take To Complete And Submit My Cyber Essentials Self-Assessment?
The self-assessment questionnaire only takes a few days to complete. During the process, you can save your progress and return to it at a later date. However, the deadline to complete and submit your assessment is 3 months from the start of the process. After this time, your application will be closed and you will have to reapply and pay the application fee to re-enter the process. Most of our customers complete their application within 7 days and we have yet to fail an application with our support. Click here to 
get started
How Do I Get Notified About My Application Status?
We will keep you up to date with your application status through e-mail. You will either receive your certification to confirm your compliance or get feedback on any aspect of the assessment which is not fully compliant. You will receive detailed comments from the assessor on all answers that were considered non-compliant. Our application process is detailed 
here 
or you can contact us directly with any queries you have about your application.
Who Assess My Cyber Essentials Applications?
As DCI we sell the level of Cyber Essentials certification you wish to apply for. We then assess your Cyber Essentials certification. BiP Solutions are an accredited assessor working on behalf of the awarding body QG business solutions. QG business solutions are one of five awarding bodies in the UK who can approve Cyber Essentials certifications. The awarding bodies work on behalf of the UK Government.
What Are The Terms And Conditions When Purchasing Cyber Essentials Through DCI?