Over the last few decades technology has been a driving factor in improving modern military operations. The Internet of Things (IoT), robots, drones and connected communications, weapons and apparel are all forming the military of the future; automating and informing command teams in real-time and in any location.
The MoD is a great example of an organisation that is putting technological innovation squarely at the heart of its strategy, and launching a range of initiatives such as C4ISR and Mike Stone's recent commitment to the creation of common IT and standardising technologies. Why? To make the Ministry more agile and lean, and to deploy force-multiplying technologies to better support troops both in training and in battle.
Arguably, though, the individual enablement and monitoring of soldiers has not been widely adopted. But technology can also help understand individual physiological performance, which is important to help optimise soldiers' individual capabilities and protect life both in training and operationally.
Preserving Life and Optimising Performance
Why health monitoring?
Soldiers are, by nature, tenacious and stoic. They routinely push themselves to the absolute limit to complete successful missions, often operating in the most critical, high stake and dangerous environments. But at what physiological cost to individual soldiers?
2013 was the year that brought the issue of soldier safety into sharp focus. Three SAS candidates died during exercise around Pen-y-fan, in the Brecon Beacons. The course was gruelling, it was a very hot day, but even with this being a relatively short course and these soldiers were experienced, smart and supremely fit. They never returned. All three soldiers had died from the consequences of hyperthermia; fatal heat stress caused by overexertion in high temperatures. Three years later, in 2016, Cpl Joshua Hoole died in similar circumstances, after a test march in the Beacons on the hottest day of the year.
Two things connect both stories. Firstly; all soldiers were single minded in their determination to complete their missions. Second, there was a lack of technology that could accurately identify early warning signs of soldiers being under considerable stress and, therefore, at risk. Arguably, if monitoring technology was in use, trainers and soldiers could have been alerted to the dangers of heat exhaustion before symptoms became irreversible.
Marginal Gains and the Military
Sir Dave Brailsford, former British Cycling's performance director and Team Sky principal believes that through identifying small vulnerabilities and improving each by one per cent in a multitude of areas, the cumulative gains, in terms of performance (and therefore success), are huge.
This theory of marginal gains can also be applied to military training; by understanding individual components of a soldier's physical performance in different environments and situations, it's possible for military instructors to identify the strengths and weaknesses of each soldier to fine-tune combat strategies. Using a mix of biometric data gathered by smart monitoring technology and delivered over time, instructors can identify recruits who adapt to cold or hot environments; who can recover quickest after exercises or tours; and what the squad makeup is needed to maximise the chances of a successful outcome every time.
Monitoring; The New Breed
The Brecon incidents refocused scrutiny on the measures that military organisations, like the MoD, are putting in place to keep personnel safer in challenging conditions. Similarly, as warfare changes, and the demands on soldiers increase, the military is looking for new ways to create and maintain stronger, fitter and smarter soldiers.
Innovation in physiological monitoring for health and fitness purposes hasn't necessarily kept pace, however. While there are pockets of innovation across the sector – such as the integration of monitoring existing military technologies, there is no commonly adopted solution. Now, a new breed of analytical monitoring technologies is emerging to meet the sector's growing and increasingly stringent requirements.
One of these new technologies is Bodytrak, an in-ear monitoring device that accurately, measures critically, core body temperature (CBT), heart rate and other factors such as Vo2, speed, distance, cadence – continuously, and in real-time. Sitting on the ear, its proximity to the brain and torso allows it to gather the most accurate physiological data – enabling early intervention in response to harmful physiological changes.
Using such wearable technology during training and operationally gives instructors and soldiers themselves the ability to monitor vital signs in real-time via the device itself or on a visual interface displayed on a smartphone or tablet. Red, amber, or green status indicators represent levels of physiological stress giving second-by-second tracking for faster and more informed decision-making and early intervention where necessary.
The important consideration with new technologies is that they must integrate with existing hardware ecosystems, reducing the need for unnecessary or additional equipment. For example, a dismounted soldier already uses operational headgear and ear-based digital radio systems, so it's essential an in-ear device can integrate seamlessly. This eliminates the need to introduce new processes or kit, which causes disruption and increases the kit burden.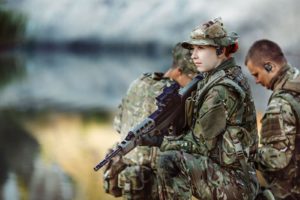 Real-time Data for Strategic Advantage
Real-time data analytics and machine learning give squad leaders new insight into performance over time, building a picture of each individual based on their own performance. Soldiers are empowered to take a proactive approach to training and situational strategy. For trainers, accurate, ongoing monitoring of multiple vital signs has the potential to significantly improve the physical performance of their crew members, reduce injury, detect illness and high levels of stress, whilst improving recovery time.
Bringing the Science of Sport to the Battle
Modern warfare has changed unrecognisably in the last decade alone, as has the conflict landscape with soldiers expected to perform at their physical peak. With the revolution taking place in Command, Control, Communications, Computers, Intelligence and Reconnaissance (C4ISR), technology is being seen as a true 'force-multiplier' and, when integrated with vital sign data, could mean keeping entire teams healthy and productive for longer.
Data captured can help construct a deep understanding about how soldiers cope physiologically with specific training and battle scenarios and, eventually, reduce illness and improve the performance of individual service men and women and even predict the onset of conditions they have not yet experienced. Through measuring multiple vital signs with one device and in real-time, physiological warning signs can be identified, enabling early intervention, improving a squad's overall well-being and allowing for the fine-tuning of training and operations.
Article submitted by Leon Marsh, Founder and CEO, Bodytrak. 
Leon is the founder and driving force behind Bodytrak® and inventor of the technology. His vision for the business is to deliver unrivalled solutions which enable users to experience significant improvements to their health, well-being and performance. Leon's background is in industrial design where he spent over ten years with Philips and Nokia, working across design, innovation, product development and manufacturing in the UK, mainland Europe and the Far East.
If you would like to join our community and read more articles like this then please click here
The post Can Body Monitoring Preserve Life and Boost Soldier Performance? appeared first on Defence Online.