The defence community will get a first glimpse of Brokk UK's new security and rescue systems during DVD2018, due to take place at Millbrook Proving Ground in Bedfordshire this September.
DVD2018 will showcase the equipment and technology currently in development to ensure the British Army is able to meet tomorrow's challenges head-on. Attendees can expect to see a wide array of equipment on display, from specialist vehicles to the services needed to support land-based military operations.
As the world's leading supplier of remote controlled demolition machines, Brokk UK will appear at Millbrook to exhibit its range, including the new security and rescue robots.
Today's troops face a myriad of challenges ranging from exposure to extreme temperatures and complex urban environments to difficult terrain during disaster-relief efforts, in addition to more conventional threats from explosions and enemy fire.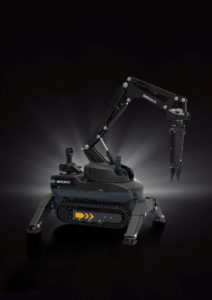 With a wireless working range of over 1,000 metres, the SR120D is a powerful tool for natural disasters, collapsed buildings, high temperatures, risk of enemy fire and chemical, biological, radioactive and explosive (EOD/UXO/IED/VBIED) environments (CBRNe).
The system is designed to relay video, audio and sensor data up to a kilometre away, providing remotely operated, flexible, security and rescue solutions. Operations can be undertaken using the SR120D to locate survivors in partially collapsed buildings, without risking the lives of troops.
The SR120D is also able to assist firefighters in scenarios where obstacles prevent access to the fire itself, clearing a pathway through doors and even walls. Threats associated with collapsed buildings, toxic fumes and explosions, or others within chemical or nuclear plants can be dealt with remotely and safely. Through the use of cameras and optional sensor data, the system can also help assess the fire to ensure the most appropriate strategies are implemented.
While the SR120D system is based on established Brokk technology, partnerships within the security and rescue sector have also allowed for the specification of state-of-the-art equipment; from military grade high capacity, encrypted radio communication – specially developed for non-line of sight operations in difficult environments – to cutting edge optional sensor systems.
The SR120D comes with a standard fit camera system and can also be equipped with a large number of integrated or external optional sensors. Furthermore, it can be supplied with a tailor-made ISO container system including an operator station with air conditioning, facilitating independent use over longer periods of time in remote areas.
Critically, this system gives users the ability to perform both heavy duty and delicate operations from a safe distance in almost any environment. Regardless of the danger, be it natural disasters, collapsing buildings, high temperatures, risk of enemy fire or CBRNe, the remote SR System will keep operators safe.
Brokk UK will be exhibiting at DVD2018 on 19 – 20 September. Attendees will be able to see the SR120D first-hand and speak to the team about how the system can support them. Further information about Brokk UK's capabilities is also available at: www.brokk.com/uk
If you would like to join our community and read more articles like this then please click here.
The post Brokk UK to showcase remote Security and Rescue system at DVD2018 appeared first on Defence Online.