Protecting territory and keeping its people safe are key priorities for nations across the globe.
Global trends such as shifting balances of power, rising nationalism, and the emergence of new digital battlefields are redefining the geopolitical landscape.
This ever-evolving environment creates a stimulus to increase investment in defence and the requirement to spend more effectively as nations look to protect their own interests.
Maintaining this capability drives expenditure and means that those businesses working in the defence industry have a wealth of opportunities to exploit.
We review the UK defence budget below and discuss how you can use DCI's range of features to help you engage earlier and win more in the global marketplace.
UK defence sector overview
The defence industry plays a key role in economies across the globe. From the UK's perspective, it makes a huge contribution across all regions of the UK whether as a major employer, a large investor or a hub for local communities.
Figures reveal that 500,000 people work either directly or indirectly in defence and over 25,500 apprentices are developing skills within the industry. In addition to the MOD's budget of almost £37 billion, defence's direct contribution to GDP features on average over £7 billion of exports generated each year.
The UK already spends 2% of its annual GDP on defence, the recommended minimum for NATO membership; this is set to increase in the years to come, as the Government conducts a detailed spending review that will re-examine the priorities and objectives of UK defence.
What is the defence budget spent on?
To ensure that the UK remains a safe place for citizens to work and live in, the British defence budget is allocated to several areas including:
Technology: Technology is a main area of focus for the Ministry of Defence, it invests heavily to stay at the forefront of innovation. The organisation works with suppliers that provide a range of services such as cloud and digital, network services, software and technology products and services.
The Defence and Security Accelerator (DASA) was established to drive innovative ideas, equipment and services and make them operationally available UK security and military users in order to help maintain security and military advantage over adversaries. DASA is a cross-government organisation that supports start-ups and SMEs to deliver innovation and value to defence buyers. In its first two years, DASA has run several innovation competitions and invested £42.1 million in 278 projects.
Equipment and Support: Spending on equipment and support accounts for roughly 40% of the Ministry of Defence budget. It is not uncommon for the MOD to release tender opportunities for goods and services including ships, submarines, aircraft, vehicles, commodities and support (maintenance and repair).
Defence Equipment and Support equips and supports the UK's Armed Forces for current and future operations. Employing approximately 18,000 people with a budget of some £14 billion, DE&S has headquarters in Bristol with other sites across the UK and overseas. DE&S acquires and supports equipment and services including ships, aircraft, vehicles and weapons, information systems and satellite communications.
Infrastructure: The Defence Infrastructure Organisation (DIO) plays a vital role in supporting the UK Armed Forces by building, maintaining and servicing the infrastructure needed to support defence. Each year DIO currently spends around £3 billion buying infrastructure services to enable the men and women of defence to live, work, train and deploy across the UK and overseas.
DIO also manages infrastructure on behalf of the MOD, including everything from airfields and firing ranges to office blocks. This land and buildings must be looked after and maintained to meet the needs of the UK military.
Although technology, equipment and support and infrastructure are the main areas of focus within the marketplace, like all public sector organisations the MOD must buy everything from pencils to uniforms to cleaning or catering services, all using the public procurement process, which means almost any business can enter this market.
How much is the UK defence budget?
The latest figures from Stockholm International Peace Research Institute (SIPRI) include the UK in the top ten global military spenders list. SIPRI figures encompass all government spending on current military forces and activities, including salaries and benefits, operational expenses, arms and equipment purchases, military construction, research and development, and central administration, command and support.
Military spend by country is revealed below: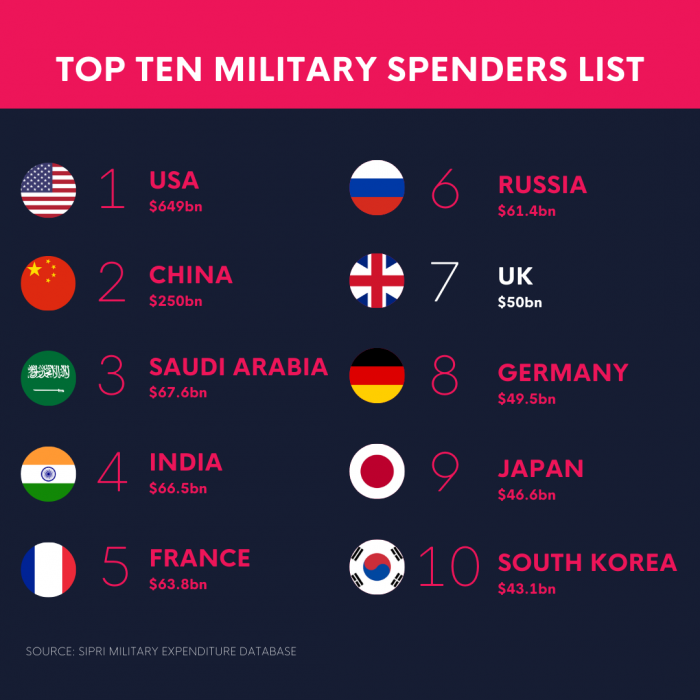 So what is the UK defence budget? The SIPRI military database estimates that UK spends £38billion per annum.
UK defence budget increase
Defence spending in the UK is set to increase.
The government pledged in its 2019 election manifesto to exceed the minimum 2% of GDP defence spend recommended for NATO members, with an increase of 0.5% above inflation for every year of the new parliament. The UK already spends 2% of its annual GDP on defence, the recommended minimum for NATO membership.
The Conservative party manifesto for the 2019 General Election stated:
'We will support the UK's world-class defence industry by investing in ambitious global programmes, including building the new Type 31 frigates in British shipyards such as Rosyth and a new generation of armoured vehicles, made in Britain.'
Training, equipment, cyber security and aerospace are all areas in which the UK will invest in coming years. During the Budget, Chancellor of the Exchequer Rishi Sunak committed a share of an extra £900 million investment for research to the space sector and a £10 million donation to the Armed Forces Covenant.
UK defence budget breakdown
The defence sector generates huge revenue streams on a global scale. If we take UK defence spending as an example, we can see where the investment is being made.
Access defence spending instantly. DCI hosts the largest defence tenders database in Europe. Every year we publish thousands of contracts, supporting defence and security organisations to procure the goods and services they require to keep the UK safe.
The infographic below gives an overview of the UK military budget for 2018/19.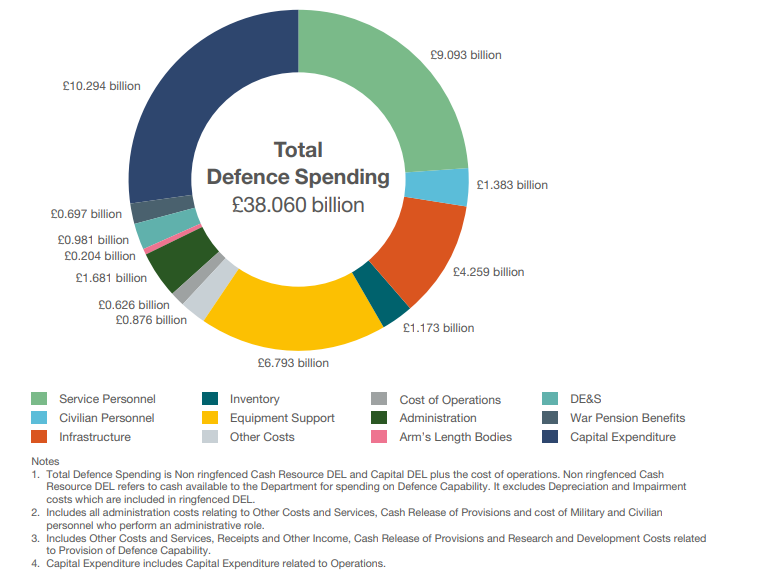 Source: https://www.gov.uk/government/publications/ministry-of-defence-annual-report-and-accounts-2018-to-19
Defence Budget UK: Planned Expenditure on Equipment and Support between 2019 to 2029
The most recent   gives details on planned expenditure on equipment and support between 2019 to 2029.
The Rt Hon Ben Wallace MP, Secretary of State for Defence, stated within the UK defence in numbers report that:
"The sector directly supports more than 100,000 jobs across the four nations of the United Kingdom and many more in the supply chain. It is expert in everything from shipbuilding and armoured vehicles to missiles and aerospace. And that it is the 2nd largest defence exporter in the world."
The document also confirms long-term spending plans. Planned Expenditure on Equipment and Support between 2019 and 2029 includes:
Submarines £46.7 billion
Information Systems and Services £24.0 billion
Land Equipment £19.5 billion
Ships £19.3 billion
Air Support £18.4 billion
Combat Air £17.1 billion
Weapons £14.7 billion
Intelligence, Surveillance, Target Acquisition and Reconnaissance £5.7 billion
Spend with SMEs
The Ministry of Defence has placed SMEs at the heart of its defence procurement strategy and is committed to achieving 25% of spend going to SMEs both directly and indirectly as part of the supply chain by 2022.
The sector wants to encourage innovation and wider Small and Medium-sized Enterprise participation throughout the defence supply chain and plans to pursue policies and practices that make it easier for new and smaller businesses to identify, compete for and win opportunities with the Ministry of Defence.
In 2019, the MOD launched the Small and Medium-sized Enterprise Action Plan. The plan highlights the importance of having a diverse supply chain and encourages new and non-traditional suppliers, including SMEs, to bid for work within the defence supply chain.
If this interests you, learn more about what the UK defence sector is spending on – and with whom…
Delve deeper into defence spending
Our Spend Analysis tool collates and publishes all UK defence sector and public sector spend data, which means you don't need to wait for MOD spend reports.
DCI customers can gain access to the latest spend figures from DE&S and the Ministry of Defence as the contracts are awarded – ahead of industry competitors
Book a live demo with a member of our expert procurement team today to learn more about working within the UK defence marketplace.