At Thales, the increasing importance of innovative communications in the defence and security sectors was clearly demonstrated by the recent opening of the company's new UK headquarters by Prime Minister Theresa May.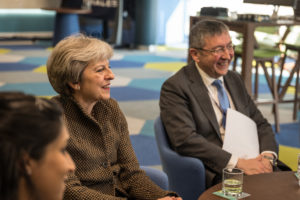 The opening of the new £23 million facility at Green Park in Reading in February was a demanding event management project in itself, but it was also the perfect communication platform to announce that Thales was publicly committing itself to the UK.
Thales is a global technology group headquartered in France, but the opening reinforced the message that the company plans to continue investing heavily in the UK, where it enjoys a 130-year heritage.
The message was clear. As one of the country's leading high-technology manufacturers, Thales makes a significant contribution to the economy. Each year, it invests over £575 million in the UK supply chain, working with more than 2,000 British companies.
Thales is increasingly looking for joint opportunities with its partners and supply chain to communicate positive content around the themes of investment, innovative solutions for our customers and our contribution to the UK prosperity agenda.
Thales employs over 6,500 people in this country, including 3,500 highly skilled engineers, across 12 key sites. Worldwide, it employs over 65,000 people across 56 countries with annual revenues of over £13 billion.
Therefore, the external messaging for the HQ's opening was based around the key themes of long-term investment, innovation and securing highly skilled jobs in Britain.
As well as housing the new headquarters, Green Park will be a centre of excellence for secure radio communications, network and infrastructure systems and cyber security. It brings 500 jobs with the capacity to extend to a further 100.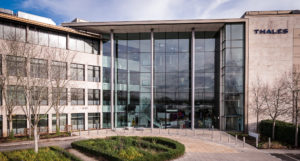 The new site is also home to the company's cutting=edge research facilities. Thales is a major investor in UK research & technology working with its partners to invest over £70 million annually.
It was a positive announcement of interest to traditional media channels but the days of a one-shot press release and photo opportunity have long gone. Thales communications has fully embraced the amplification and storytelling opportunities provided by proactive social media and content.
All these channels take the user back to the company's shop window – the website – for the all-important measurement and evaluation.
The main activities in Thales communications are digital communications, media relations; branding and advertising; external and internal communications; and exhibitions and events.
More and more, we are being driven by storytelling and content. And stories about joint success and partnerships are increasingly relevant in the defence and security world.
This can be national level engineering programmes such as the introduction of HMS Queen Elizabeth into operational service, as delivered by the Aircraft Carrier Alliance of Thales, Babcock, BAE Systems and the MOD.
Or it can be specialist subjects that focus on technology and solutions. Take, for example, the MOD's new biological surveillance detection system which brought together the defence sector with the high-precision world of Formula One engineering.
The first Biological Surveillance and Collector Systems (BSCS) were delivered to the RAF Regiment. BSCS will protect deployed UK troops from the threat of biological attack by detecting incoming particles in the air through specialised sensors and evaluating equipment.
Developed by Thales in partnership with Defence Equipment and Support (DE&S) and Dstl, the programme involved a partnership of 26 organisations and SMEs, the majority from the UK.
Technical partners and experts, including Williams Advanced Engineering, the technology and engineering services business of the Williams Group – best known for its Formula One team – were selected to help build and deliver this leading-edge technical solution.
Williams Advanced Engineering was responsible for the design and development of the innovative air detection system using expertise and learning from Formula One computational fluid dynamics, as well as testing in one of Williams' two wind tunnels.
Bristol-based Kinneir Dufort was responsible for designing the Filter Consumable in the system, a key element designed to capture, hold safe, and release into liquid form potentially dangerous biological particles for analysis. This required the device to function within the collector designed by Williams and within the biological laboratory environment, also part of the capability.
There was an additional positive communication opportunity after the initial 2017 unveiling as the combined CBRN Delivery Team was later honoured with a Minister for Defence Acquisition Award in November 2017.
Joint channels included media briefs, press releases and amplified social media all leading back to engaging online content and imagery.
Proactive planning and transparency allowed all partners to communicate and amplify an innovative technology success story with consistent key themes that celebrated the strengths of UK industry partnerships.
If you would like to join our community and read more articles like this then please click here.
The post Sharing success is a key part of modern communications appeared first on Defence Online.