James Milne, Managing Director of Clip-Lok, examines the important role of logistics in the military and highlights the need to adopt the reusable model.
Modern conflicts are far more fluid and dynamic than the static trenches of WWI. Forces are usually deployed by air or road, equipped to deal with their immediate mission, but only probably self-sufficient with food, ammunition and shelter for a short period of time. They therefore require resupply to their operating base, or their larger main base. Logistical support is a vital element of the modern military: no more scavenging a few chickens or cows as troops meander along.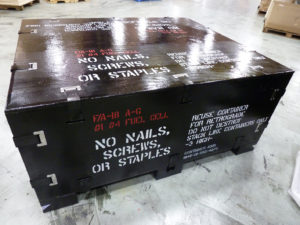 Logistics in industry and the packaging materials they use have changed enormously in recent years. Some commercial packaging may cost thousands of pounds for one box, but it provides excellent value for money as the whole-life cost of this reusable packaging, which minimises damages and can be flat-packed for reduced volume return shipping, is far less than old-fashioned one-way packaging which did not protect the contents from damage or even destruction during shipping. 
Society has recognised the move away from plastic bags and people now reuse their jute bags many times. Industry has recognised this need to reuse. The slower-moving procurement arms of the military (or the civil servants) still cost packaging on an instant-use basis, failing to recognise the enormous potential savings of the reusable box. Quotes request a box of standard dimensions, or a pallet is utilised with the item clingfilmed to the base. However, the people who authorise these purchases are not the people who receive the goods at their final destination, damaged or broken. Troops in Afghanistan received air-conditioning equipment manufactured in Denmark, but about 80% was broken because the specifically designed packaging hadn't been purchased. Besides the enormous waste of money for the equipment, more importantly the soldiers did not receive the working equipment they required.  
Clip-Lok packaging uses the original metal clip which was invented and patented. This allows very strong boxes to be built quickly, as well as flat-packed, and the boxes can be made to any size required. The US Marines were spending a lot of money replacing fuel bladders as nails were being used to seal boxes and it only took one misdirected nail per box to ruin a bladder. The Clip-Lok no nails or screws solution resulted in a perfect container. The US military also required packaging for tank tiles. These heavy tiles required a box to meet their 'Mil1660' classification; thanks to the strong properties of the plywood used by Clip-Lok, we designed a crane-liftable box, which again met their needs.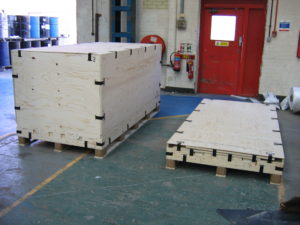 Plywood is an ideal material for packaging as it is very strong, has good green credentials and is fully compliant with the regulations for transporting wooden products internationally.  
Access to the right decision makers within the procurement process is always a challenge and this is particularly the case when supplying support products such as packaging, as the focus can be merely on a price basis rather than looking at whole-life costs and other product benefits. 
Rightly, the taxpayer's money needs to be spent prudently, but within the logistics process all matters need to be considered; for example, a packaging solution that is provided at £100 is likely to be selected against one that costs twice that amount. However, if the first solution is only used once and the reusable/returnable solution is used one hundred times, then the 'more expensive' solution would result in a 98% saving for the taxpayer.  
Often items need to be transported and deployed rapidly over huge distances, and utilising a bespoke solution can ensure that packing densities are maximised to the type of transport used. This can have a significant cost saving, reducing transport and fuel costs whether the items are being moved by land, sea or air. The requirement to get items rapidly to remote and inaccessible areas often requires a solution that is capable of being air-dropped and easily unpacked.    
Flexibility of the packaging solution can bring additional benefits and savings – a multifunctional box can convert the packaging solution to a functional item, whether shipping to theatre or for disaster relief. Often the packaging can transport items and then be used on-site for other purposes such as cabinets, shelving units, showers, latrines and so forth, thereby eliminating the cost of providing those items.  
Armed forces are required to ship items for repair and refurbishment and a reusable packaging solution is of benefit here as the item can be transported and repacked as often as required without the need to provide new packaging every time the item is moved.  
Military logistical demands mean that some stores are maintained in long-term storage. These can be heavy items and a packaging solution that allows stacking without the need for racking can provide a solution that maximises storage space and reduces warehousing costs.  
For more information, please visit www.clip-lok.com. 
The post Packaging: The Best Deal – Ship any Shape appeared first on Defence Online.