The North Atlantic Treaty Organisation (NATO) is made up of 29 member countries and sets a guideline for its members to spend at least 2% of national GDP on defence annually.
Learn more about NATO spend below.
United States
Given that the US accounted for some 69% of the total NATO in 2018, its spending levels have a significant impact on the overall spending data for NATO as a whole.
However, it is worth noting that under the Trump Presidency, the US defence budget in 2018 returned to a level last seen in 2010. SIPRI's figures show an increase of 4.6 % to reach $649 billion and reveal that spending by NATO members made up 53% of all global military expenditure in 2018.
President Trump has been keen to apply pressure on the rest of NATO members not only to hit the 2% spend guideline but to actually aspire to spending up to 4% of their GDP on defence.
According to estimated data from IISS, the United States contributed direct funding for NATO, which includes common procurements and missile defence, totalling $6.74 billion in 2018.
Europe
For NATO Europe, there has been a steady rise in defence spending since 2015, with the biggest year on year increase of $13.1 billion coming between 2017 and 2018.
Turkey's expenditure was the largest driver for this as it focused on internal security and cross-border operations, spending an additional $2.8 billion in 2018.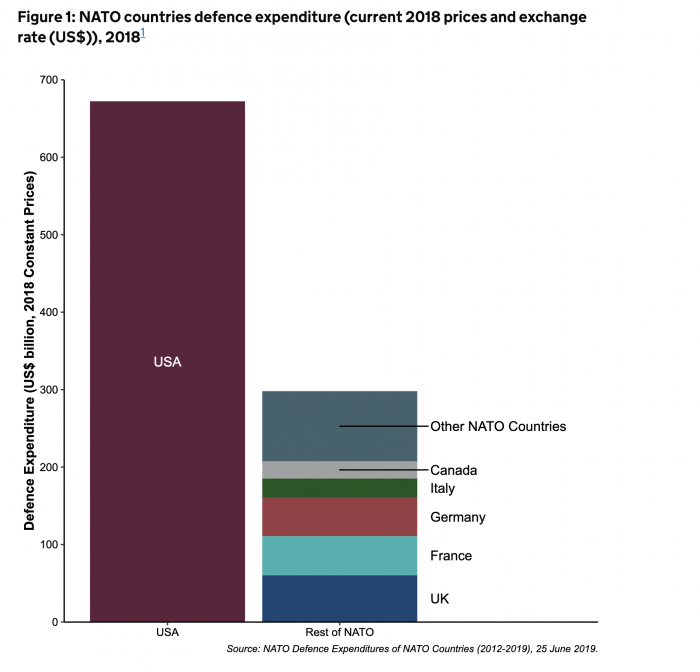 The UK is hitting NATO's targets
Looking at NATO's guideline of a minimum of 2% of national GDP on defence spending, the UK was one of only six NATO members to meet this target spend alongside the USA, Greece, Poland, Latvia and Estonia in 2018.
For the last seven years, the UK has been the second highest spender in NATO, spending $60.4 billion on defence in 2018.
Another NATO guideline states that its members should spend at least 20% of their defence budget on equipment. In 2018, the UK was one of fourteen countries to meet this target, spending 24.2% of its defence expenditure on equipment.
Luxemburg came out top of this particular list, spending 41.8% of its defence budget on equipment. However, it also had the lowest spend on defence as a proportion of GDP, averaging just over 0.4% from 2012 through to 2018.
Since 2012, France, Turkey and the USA are the only countries to have consistently hit this target.
Find defence tenders with NATO countries
Wherever you are based, our defence intelligence tools can help you engage earlier, be more competitive and sell more effectively to support your business growth at every level.
The global marketplace holds a considerable wealth of opportunity for defence suppliers.
Ready to win more and expand your reach? Learn how you can access new opportunities by requesting a demo with our expert procurement team.