How much is spent on Aerospace Operations by the UK&nbspMilitary
Investment is what makes the RAF as efficient as it is. The RAF spends billions of pounds on aerospace operations, procuring the most complex and technologically advanced aircrafts in the world.
The UK air sector accounts for 85% of Britain's defence export orders. The industry generates more than £33.5bn in turnover and is made up of almost 2,500 defence suppliers*.
Read our overview of aerospace operational costs below.
Combat Air and Air Support
Defence Secretary Gavin Williamson has most recently announced that Britain is set to launch a new Combat Air Strategy. He has said that:
"The Combat Air Strategy will bring together the best of British engineering, skill and design, and deliver a compelling vision for the future of air power."
The new strategy will position the RAF at the forefront of the high-end airpower technology and innovation. The MOD plans to work in close collaboration with UK industry and international partners.
The planned expenditure for combat air and air support operation costs has already been set out for the period 2016-2026 in the Defence in Number 2017 review:
Combat Air – £18bn – (e.g. Typhoon, Tornado, F-35)
Air Support – £16.6bn – (e.g. Voyager, A400M, C130)
Air operations in Iraq and Syria
The UK Defence in Numbers 2017** review stated that last year the UK has conducted the second highest number of strikes – 1,318 in Iraq and 196 in Syria. These have liberated over 4.2m people in these areas but how much money has been spent completing these missions?
Recent reports have revealed that the UK has spent £1.75bn on armed air missions against Islamic State in Iraq and Syria since August 2014. The RAF has spent more than 42,000 hours flying Tornado, Typhoon and Reaper aircraft at a cost of £1.5 billion.
Information from responses to Freedom of Information requests were looked over by Drone Wars UK. The full cost of flying the UK's armed aircraft (Tornado, Typhoon and Reaper) for more than 42,000 hours is almost £1.5 billion. The site also reports that, the data shows £268 million in weapons have been fired over the last 3½ years.
Joint Force 2025
The Strategic Defence Security Review 2015 stated that in 2025 a new force structure would be set in place. This will replace the Future Force 2020. The Joint Force 2025 will provide, if required, an expeditionary force of 50,000 personnel. The Government hopes that the new force will create a "stronger international focus on defence and a defence innovation initiative".
When the new force was announced in 2016 after Strategic Defence Security Review, it was stated that an additional £12bn would be added to the equipment budget over ten-year period. This budget would cover the procurement of nine new Maritime Patrol Aircraft.
The Defence Numbers 2017 review outlined what other aerospace tenders would be required. This is set out in the Air Group infographic below: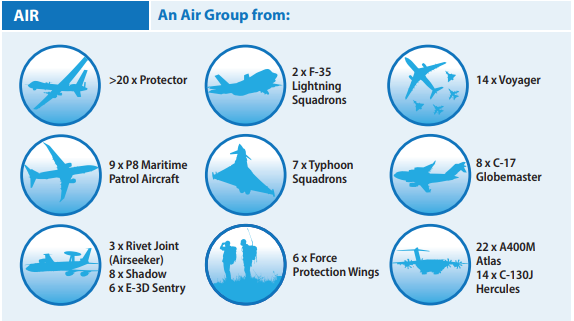 Find Aerospace Tenders
In the last year, over 3,400 Aerospace Tenders were published on the DCI portal. If you would like to win RAF tenders, you can find opportunities using DCI.
The MOD is one of the biggest public procurement organisations in Europe and aerospace tenders make up just a small part of what the MOD has to offer defence suppliers.
Learn more about aerospace tenders on our website or discover opportunities for defence and aerospace suppliers during a live DCI demo.
* Britain set to launch combat air strategy defence secretary announces
** UK Defence in Numbers 2017 PDF