Last week Defence Secretary Gavin Williamson announced that the Dreadnought programme will receive a £400 million funding boost.
This investment will safeguard over 8,000 jobs in Barrow-in-Furness and across the UK, all of which are supported by the £31 billion Dreadnought programme and its supply chain.
Defence Secretary visited BAE Systems' site in Barrow-in-Furness
The Defence Secretary visited BAE Systems' site in Barrow-in-Furness to unveil a new academy that will upskill BAE employees to work on Royal Navy submarines over the next twenty years.
Cliff Robson, Managing Director of BAE Systems Submarines, said:
"This is a fantastic facility that will provide a unique environment in which to train our growing workforce. Our investment in skills will not only ensure we have a pipeline of world-class talent available to deliver our complex programmes but will also positively contribute to the economic prosperity of the region and the UK's engineering industry."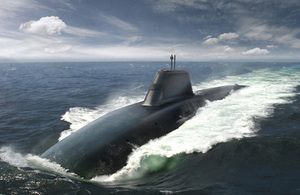 Second Dreadnought submarine
During the site visit, Mr Williams revealed the name of the second Dreadnought submarine, which will be  HMS Valiant.
The Defence Secretary wants to ensure that the country has best in class nuclear deterrents at sea for decades to come. He said:
"Next year marks half a century since British nuclear-armed submarines began patrolling the waters in response to the danger posed by the Cold War – and the world is again facing a raft of intensifying threats."
MOD Contracts
The government wants to build a Britain that is "fit for the future", which is why the MOD spends billions of pounds every year to protect the nation against ever-growing threats.
Is your business interested in working with the MOD's procurement agency? Find  MOD contracts using our business intelligence tool.
By signing up for a free trial of DCI, you can gain access to current and future defence market trends and plan for a successful future.
Try Our DCI Premium Package FREE For 3 Days.