The latest figures from Stockholm International Peace Research Institute (SIPRI) show that world military expenditure increased to $1822 billion in 2018 – reaching its highest level since 1988.
This is a rise of 2.6% from the previous year's figures and represents the second year of continuous growth.
The biggest spenders in 2018 were the United States, China, Saudi Arabia, India and France, which together accounted for 60% of global military spending.
Global defence spending in 2018 represented 2.1% of global gross domestic product (GDP) or $239 per person.
Top military spenders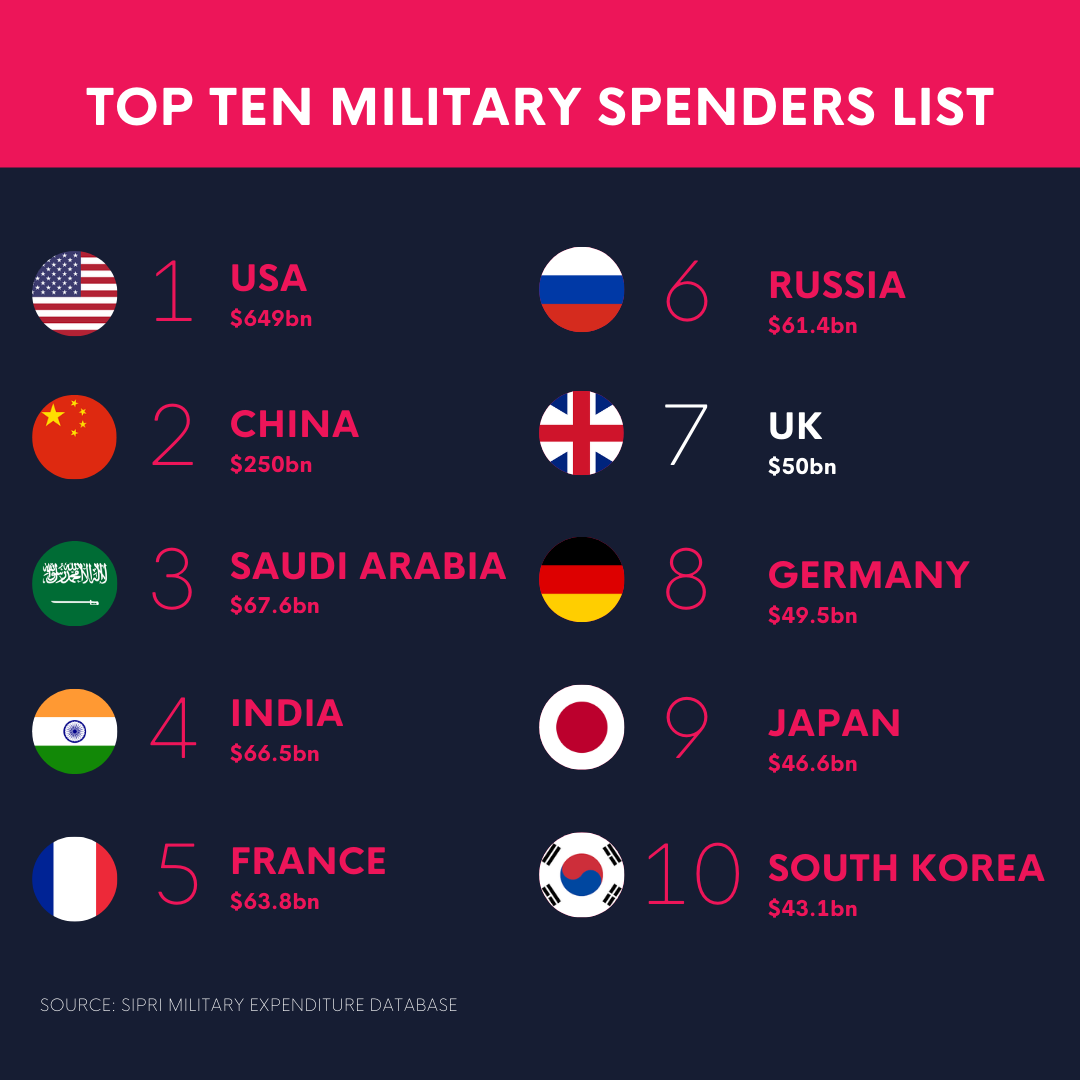 IPRI figures encompass all government spending on current military forces and activities, including salaries and benefits, operational expenses, arms and equipment purchases, military construction, research and development, and central administration, command and support.
According to SIPRI the USA and China's spending drove the increase, with these two nations responsible for half of the world's defence spending.
The United States remains the biggest spender in the defence marketplace, with investment rising by 4.6%, reaching a total of $649 billion for 2018 – close to the entire expenditure of the next eight biggest spending countries combined.
China is the second biggest investor in defence and increased its spending by 5%, reaching $250 billion in 2018. This marks the 24th consecutive year of growth in Chinese defence spending. The scale of China's investment in defence is illustrated by its spending in 2018 accounting for 14% of all global defence investment and being almost ten times as much as its spend in 1994.
SIPRI's report cites rising tensions between countries in Asia as well as between China and the USA as major drivers for the continuing growth of defence spending in the region. Defence spending in Asia has grown every year since 1988. Investing $507 billion, the region accounted for 28% of the global total in 2018, compared with just 9% thirty years ago.
2018 saw India increase its defence budget by 3.1%, taking total spending for the year to $66.5 billion. Pakistan also boosted its defence spend by 11% in 2018 – the same growth as 2017 – to hit the $11.4 billion mark. South Korea invested $43.1 billion on defence in 2018 thanks to an increase of 5.1%, reaching its highest total spend since 2005.
Gain access to international tenders
It's no secret that early engagement gives businesses the best possible advantage in global procurement, and it's here where DCI can help you get ahead of the curve.
DCI hosts the largest defence tenders database in Europe.
Defence opportunities extend far beyond the UK. We publish defence tenders from the MOD as well as global contracts in North and South America, Europe, Africa, the Middle East, Asia and Oceania.
Wherever you are based, our defence intelligence tools can help you engage earlier, be more competitive and sell more effectively to support your business growth at every level.
The global marketplace holds a considerable wealth of opportunity for defence suppliers.
Ready to win more and expand your reach? Learn how you can access new opportunities by requesting a demo with our expert procurement team.