FNH UK is the UK-based subsidiary of FN Herstal, a name synonymous with excellence and global leadership, backed up by passionate and talented people for 130 years. 
The unique FN portfolio includes portable firearms and ammunition, less lethal systems, an FN® e-novation line, integrated weapon solutions for air, land, sea applications and remote weapon stations, all combined with a 360-degree service.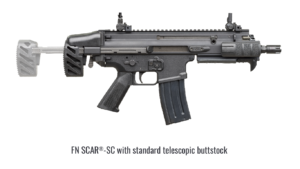 Pistols & Submachine Guns
The FN Five-seveN® Tactical Mk2 pistol is extremely light with a magazine holding 20 cartridges. The FN P90® submachine gun is a compact, lightweight weapon with a 50-round magazine making it the ideal Personal Defence Weapon.
Carbines, Rifles & Grenade Launchers
The FN SCAR® family of rifles covers the full range of requirements with the very short subcompact version, the 5.56mm and 7.62mm NATO calibre assault rifles, and the highly accurate precision rifles. The 40mm FN40GL® Mk2 grenade launcher, mounted under any FN SCAR® assault rifle or used as a stand-alone launcher, provides increased capability to the user.
Machine Guns
The FN MINIMI® Light Machine Gun (now Mk3 version) available in 5.56mm and 7.62mm NATO calibre, the FN MAG® 7.62mm NATO General Purpose/Medium Machine Gun, and the FN® M2HB-QCB and FN® M3 .50 Cal Machine Guns have repeatedly proved themselves in combat to earn their position as market leaders in their field.
Less Lethal Systems
FNH UK proposes a range of FN 303® less lethal launchers and projectiles that deliver a sufficiently dissuasive, temporary level of pain within the impact zone to obtain immediate compliance.
FN® e-novation Line
This innovative line is composed of the FN® Expert marksmanship training system, FN® FCU Mk3 fire control unit for 40mm grenades and FN SmartCore® shot counter with dedicated software for smart small arms management.
Small Calibre Ammunition
The Company has a proven record in the development and production of high quality small calibre ammunition to ensure full reliability of the weapons on the battlefield.
Airborne Crew Served Weapon Solutions
These systems are designed around FN machine guns (FN MAG® and world exclusive FN® M3) to guarantee full mission capability while ensuring protection for the carrier and maximum safety for the crew.
Airborne Fixed-Forward Firing Solutions
These fixed-forward weapon systems come with a complete suite of solutions, providing military forces with the highest level of operational capability for their rotary- or fixed-wing applications.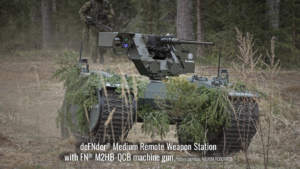 Remote Weapon Stations
The deFNder® family of Remote Weapon Stations provides optimized remote firing capability while keeping the operator completely under armour protection.
Land & Sea Mounted Weapon Solutions
FNH UK integrates its machine guns onto pintle-mounted or coaxial weapon systems for land and naval applications.
A 360-degree service
To back its quality products FNH UK proposes effective and reactive assistance to ensure long and reliable service life. FNH UK provides training, technical assistance and documentation, upgrades, retrofits and everything customers in the UK need to gain the maximum tactical advantage from its innovative range.
For more information on FNH UK, visit www.fnhuk.com.
The post FNH UK: a Long-Term Partner for British Defence Forces appeared first on Defence Online.